The Taylor Rotary Club has provided help and support to local and international communities for over 75 years.
Rotarians are very friendly business and community leader volunteers who treasure fellowship and believe in serving others people before serving them selves

Do you have a volunteer passion to help and support humanity?
If you are interested in joining us, please go to the "Contact Us" web page and submit a message.

_________________________________
The Taylor Rotary is organizing a food drive for the Fish and Loaves Community Pantry in Taylor on March 27th. The pantry services the following communities: Brownstown, Taylor, Southgate, Dearborn Heights, Allen park and Romulus. If you are in driving distance drop by on March 27th with some food as described in the flyer.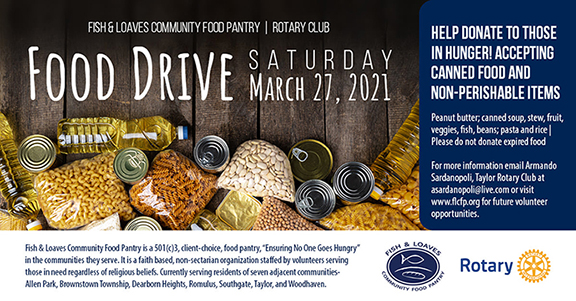 ________________________________

TWO TAYLOR HIGH SCHOOL RYLA STUDENTS
PRESENTED A CHECK FOR $ 600 TO PRESIDENT KURT SEBALY of PENRICKTON CENTER. THESE FUNDS CAME FROM A VIRTUAL BINGO FUND RAISER THAT FOUR RYLA STUDENTS ORGANIZED! ROTARIANS MICHELLE AND THERESE
HELPED THESE STUDENTS!